Radcliffe Saddler is one of the first students to graduate from the original P-TECH, or Pathways in Technology Early College High School. Saddler and five other students have managed to complete their credits in just four years; the rest of their cohort is on track to graduate in either 2016 or 2017.
Saddler and classmate Kiambu Gall, 17, have accepted IBM job offers, secured based on their performance during summer internships. Both say they intend to continue their educations, part-time, at some point in the near future. Saddler will start his career as a market research associate analyst at IBM.
Radcliffe Saddler, born in Kingston, Jamaica, is the oldest of three. When he was 6, he and his family moved to the United States for good, at least in part, because his parents wanted to provide a cheaper and better education for their children. "My family came to America in search of a better life," Saddler said.
Saddler was profiled by the New York Times four years ago, at which point he had been rejected from all of the nine schools he had applied to because of a strange New York City application process. "I feel like I did something wrong," he said.
He was one of the 8,239 eighth graders who went unmatched in the city's Byzantine high school choice process last March, forcing him and his family to scramble through a supplemental round of choices. After months of anxiety for him and his family, and the tortuous route he had taken from eighth grade just to get into high school, Radcliffe, the honors student of Isaac Bildersee Middle School in Canarsie, Brooklyn, was accepted to Pathways in Technology Early College High School in Brooklyn, his top choice in the so-called supplementary round.
"It's finally over," Radcliffe said. "I am happy right now. But I am keeping myself humble. With all good things comes responsibility. I am going to stay focused."
P-Tech, Pathways in Technology, a career-focused school in partnership with I.B.M, New York City College of Technology and the City University of New York offers associate degrees at the end of six years.
In 2013, Radcliffe Saddler had the honor of introducing President Barack Obama, who visited the school to highlight his High School Redesign initiative. Saddler was chosen out of a school-wide contest to write the best biography. The Jamaican introduced Obama in a little less than two-minute introduction. He was nervous at first. But that wore off, he said, when he realized he was in front of a crowd that had just applauded the fact that he currently has 21 college credits under his belt on top of his 42.6 high school credits and five Regents needed for graduation. Saddler is now the recipient of numerous awards and accolades.
"It was pretty surreal," Saddler told Business Insider. "It was really cool. It was really cool. I don't know if words can describe it," Saddler said. "I expected him to shake my hand, but I wasn't really expecting the hug." Schools like P-TECH are the "ticket to the middle class," Obama said during his visit. Then landed a selfie with the president.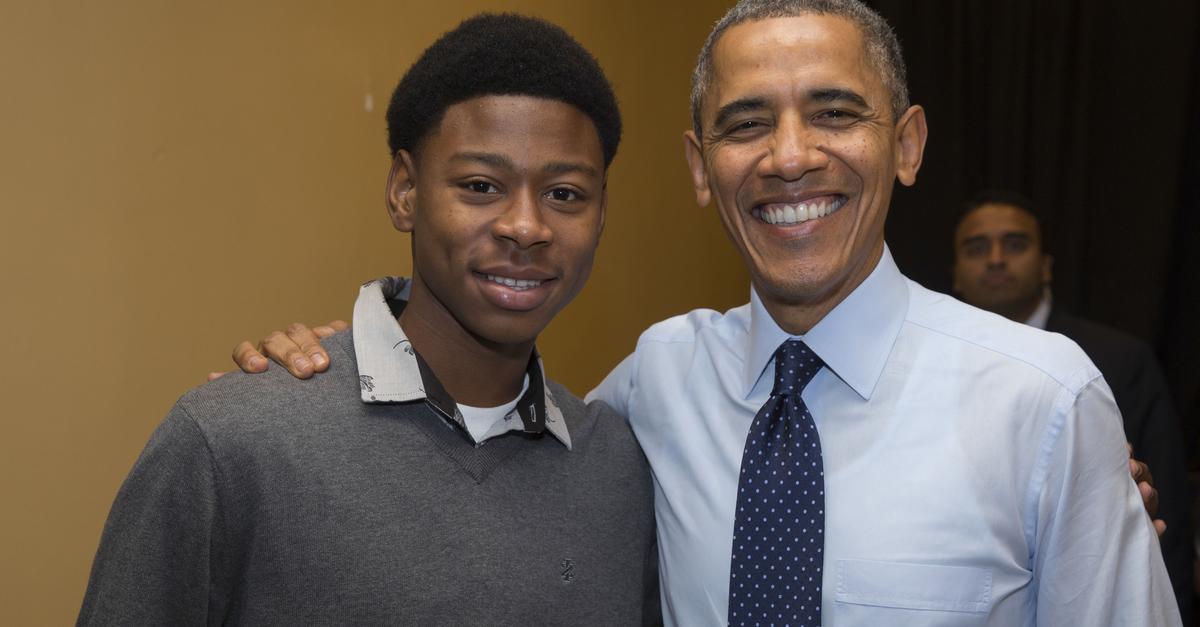 Life After P-TECH
After attaining my Associates Degree I plan to attend Harvard for business to a earning my four year degree.  I also plan to work with IBM; then later start my company that focuses on creating smarter solutions for the next generation.
"Throughout my experiences in school I always tried to work hard.  My interest in technology came from my love of video games," Saddler revealed. "In my middle school days, I used to add modifications to my video games like creating a new weapon for the character and making the character invincible.  Art has been a passion of mine too, and I have learned how to hone my ideas by creating solutions with technology," the teenager added.