Frustrated by the lack of books about black girls in her school curriculum, Marley Dias, an 11-year-old New Jersey resident of Jamaican descent, launched a campaign called #1000blackgirlbooks to collect 1000 books where black girls are the main characters.
Marley's goal is to collect 1000 books featuring black female protagonists by February 1. On February 13th, she hopes to donate them to Retreat Primary and Junior High School and Library in the parish of St. Mary, Jamaica, where her mother Janice — who runs a public health and social action organization herself — was raised as a child. The project is her BAM social action project for 2016.
"I was sick of reading about white boys and dogs," Dias told the Philly Voice. "And I told [my mom] I was going to start a book drive, and a specific book drive, where black girls are the main characters in the book and not background characters or minor characters."
Marley was featured on Good Day Philadelphia on Fox29 to discuss her social action project #1000blackgirlbooks. The project started when Marley complained to her mother about reading too many books about white male protagonists in school.
Janice Johnson Dias, who grew up in Jamaica, calls watching her daughter grow up with such an investment in giving back a surreal experience. She further explained that her daughter's "#1000BlackGirlBooks" project has been eye-opening even for her.
In the past year, Marley received a grant from Disney, traveled to Ghana to help feed orphans, and now—in her latest act of altruism—she's rounding up children's books that feature black female leads so that she and other blacks girls have more fictional characters to look up to.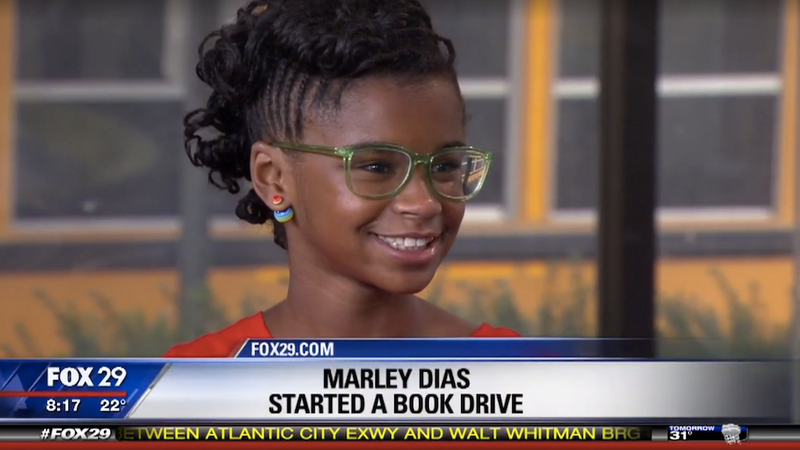 "I'm hoping to show that other girls can do this as well," Marley says. "I used the resources I was given, and I want people to pass that down and use the things they're given to create more social action projects—and do it just for fun, and not make it feel like a chore."
"For young black girls in the U.S., context is really important for them—to see themselves and have stories that reflect experiences that are closer to what they have or their friends have," Marley's mother, Janice Johnson Dias, tells the Philly Voice.
Marley hopes to one day edit her own magazine and "continue social action" for the rest of her life.
To support or learn about the #1000blackgirlbooks campaign, please click here. She is currently taking both cash and book donations. Books can be sent to the following address:
GrassROOTS Community Foundation
59 Main Street, Suite 323, West Orange, NJ 07052
Keep up the good work, young shero.