Alia Atkinson continued her impressive form in the first of several swim meets before the 2016 Rio Olympics over the weekend. Atkinson achieved an Olympic-qualifying time at the 2016 Arena Pro Swim Series in Austin, Texas.
Arena Pro Swim Series at Austin served as a FINA-approved competition where swimmers can achieve qualifying times for the 2016 Rio Olympic Games, according to their website.
On Sunday, the final night of action, the Women's 100-meter breaststroke was a 'fire on water' heat at 50 meters with Jamaica's Alia Atkinson in lane 4 leading American Katie Meili by just .05 of a second at the Lee & Joe Jamail Texas Swimming Center, University of Texas. It was a rematch of the 2015 Pan American Games, where Meili topped Atkinson. Meili went in overdrive from behind to take this win as well.
Meili won the event in 1:06.75 with Atkinson recording 1:07.47 after clocking 1:07.38 minutes in the preliminary round, the fastest time of the 78 swimmers, below the 2016 Olympic Qualifying Time. Meili recorded the second fastest — 1:07.92 minutes. Watch below.
Alia Atkinson competes in Women's 100m Breaststroke
On Saturday, January 16, the 27-year-old Jamaican recorded a fast 2:29.18-minute in the preliminaries of the Women's 200-metre breaststroke event — the second day of the three-day meet. The 2016 Olympic Qualifying Time for that event is 2:26.94.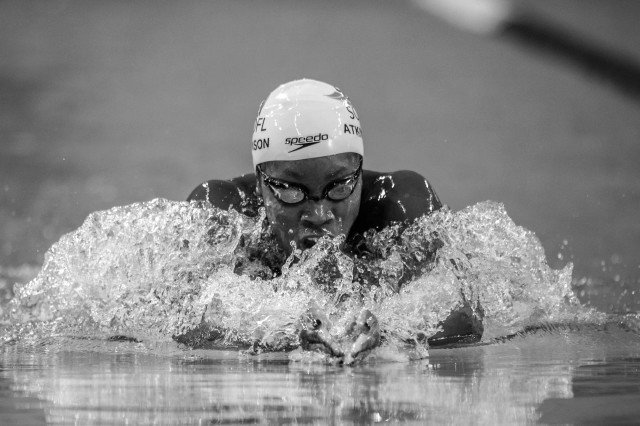 However, Alia Atkinson was placed seventh overall in the finals in 200-metre breaststroke after she returned to registered 2:29.77 minutes. Watch below.
Alia Atkinson competes in 
Women's 200m Breaststroke
She later recorded her fastest time ever of 2:03.21 minutes in the preliminaries of the 200-metre freestyle event and went on to lower that time in the finals. She clocked in at 2:02.54 minutes, which placed her 28th overall. The 2016 Olympic Qualifying Time for that event is 1:58.96.
Alia Atkinson competes in Women's 200m Freestyle
Atkinson, who was originally scheduled to participate in six events, was pulled from the 50 and 100-metre freestyle and the 200-metre Individual Medley events by Coach Christopher Anderson, citing insufficient recovery time between races as a factor, the Observer reports.