A massive band of rain and lightning rolled into Kingston, leaving some streets in Kingston flooded. Watch video below.
Matthew is still a dangerous Category 4 Hurricane located 265 miles South-South-East of Kingston, Jamaica, moving North West at 5 mph towards the island at the moment with 145 mph (230 km/h) winds with higher gusts. Hurricane-force winds extend outward up to 35 miles (55 km) from the center and tropical-storm-force winds extend outward up to 205 miles (335 km).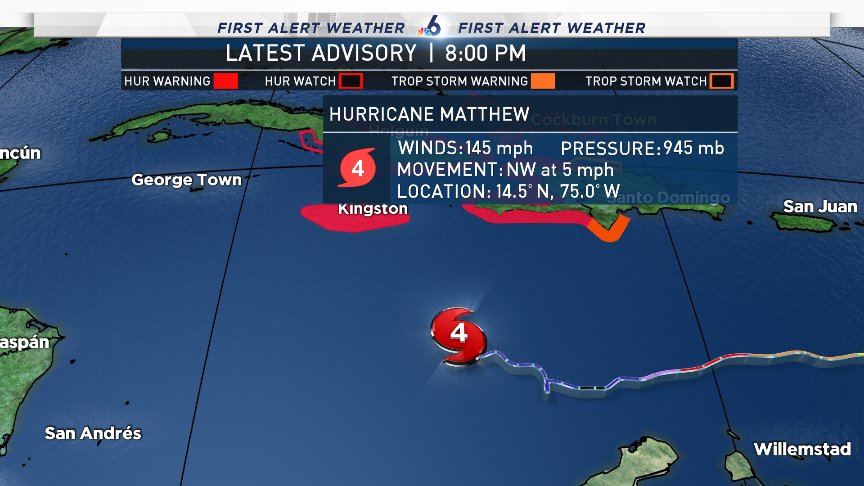 The U.S. National Hurricane Center predicts more tropical storm conditions in Jamaica Sunday night and into early Monday. The ministry of education said all schools will be closed Monday. Some fluctuations in intensity are possible during the next couple of days, but Matthew is expected to remain a powerful hurricane into Tuesday.
However, a turn toward the north-northwest is expected tonight, followed by a turn toward the north on Monday. On the forecast track, the center of Matthew will approach Jamaica and southwestern Haiti on Monday.
After just 20 minutes of rain, sections of Kingston was flooded: Three Miles.
3 Miles just now after 20 mins of rain! ??????? #Flooding #HurricaneMatthew #Kingston #Jamaica pic.twitter.com/Vl8JtfiPLi

— Maleek Powell (@MaleekPowell) October 2, 2016
Flooded roads and communities in Kingston
#HurricaneMatthew beginning to bring #rain and #flooding to #Portmore and #Kingston, #Jamaica. #Matthew #Hurricane Pics via: @CVMTV pic.twitter.com/xndJhDTifu

— Randy Small (@RandySmall) October 2, 2016
I guessing the doggies got loose ??. Then didnt wanna get in the car. I'm sure she's next level vex. #HurricaneMatthew #Kingston #Jamaica pic.twitter.com/8r4VAVeD9v

— Maleek Powell (@MaleekPowell) October 2, 2016
Houses in Portmore, a large coastal city in southern Jamaica in St Catherine, flooded
Bruh! Wah gwan ova Caymanas Gardens Portmore? *Sent to me by a friend from RJR* #flooding #Portmore #Jamaica #HurricaneMatthew pic.twitter.com/jR3dFIJ8bE

— Maleek Powell (@MaleekPowell) October 2, 2016
Dark clouds rolling in over Long Mountain St. Andrew