PLANTATION, Fla. — A father and his daughter were rescued by a good Samaritan, last Friday morning after their van sank into a Plantation canal.
The good Samaritan, Jephtah Thomas, was driving on Sunrise Boulevard, near 47th Avenue, when he saw the van fly into the canal. The car quickly began sinking with a father and his 10-year-old daughter inside. "I looked to the right and I heard the sound of a crash," he told WSVN 7 News. "I looked across and I saw the vehicle in the water. It was submerging."
According to witnesses, the front end of the car was completely submerged in seconds. Thomas immediately went to assist. "So I just pulled up over there, jumped up to run across, pulled my phone out, dialed 911," he said.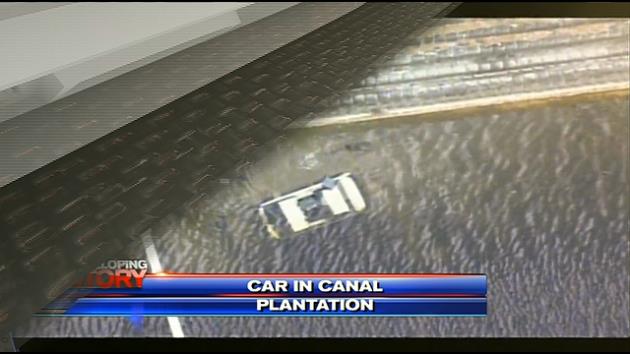 Thomas then flagged down the help of a Florida Power and Light driver to help. He then tried to open the driverside door. "I tried opening that, it did not open," Thomas said. "Then I heard a knock on the back window, and once I heard that, I said, 'Thank God they are safe. They're not dead.'"
Thomas said that when he saw inside the vehicle, the water was almost above the passengers' heads. "I think the father was holding her up above the water," he said.
Thomas had to break the window to help. "I saw that my finger could get in, I pulled it open and it busted, once it busted, the little girl just jumped on my neck," he said.
The father then got out the vehicle and hugged Thomas as well.
The van was later lifted out of the water, leaving behind items like a baby doll. The two were possibly minutes away from dying, had Thomas not pulled over. "It could've been my wife and son," Thomas said, fighting back tears.
According to Thomas, the girl had a gash on her head and was taken to the hospital and was treated for minor injuries.